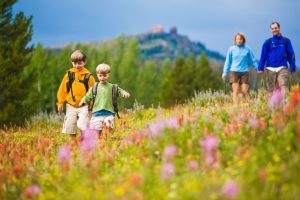 We admit it! We love runners in Steamboat Springs. Not only is it a great place to live, but it's also a fantastic travel destination for runners of all types. If you love running, you should consider investing in a vacation home, in order to enjoy the wide variety of races offered in the Steamboat Springs Running Series.
While some people may be intimidated by trail running, others will never run on a regular road again. Trail running takes the benefits of cardiovascular exercise and combines it with beautiful scenery and vistas. The Steamboat Springs Running Series boasts a variety of trail races that can't be passed up including the following.
Steamboat Stinger
With the focus on the backcountry, the Steamboat Stinger wanders through miles of Routt County forest. This race provides both mountain biking and trail running opportunities over the course of two days. If you're looking for a challenge with drop-dead gorgeous scenery that also benefits a charity, come stay at The Porches at Steamboat for this race.
10K at 10,000 Feet
Competing at altitude is the true test for any athlete. With both a 10K and 5K option, this trail race takes you up over Rabbit Ears Pass, and will put your training to the test. Because of the altitude, come to Colorado early to adjust before you attempt it. Take your vacation early and enjoy the many other activities Steamboat Springs has to offer before the race.
Steamboat Springs is truly a destination for races and trail running. Invest in the vacation homes at The Porches of Steamboat in order to truly take advantage of the amazing running series this beautiful mountain town has to offer.