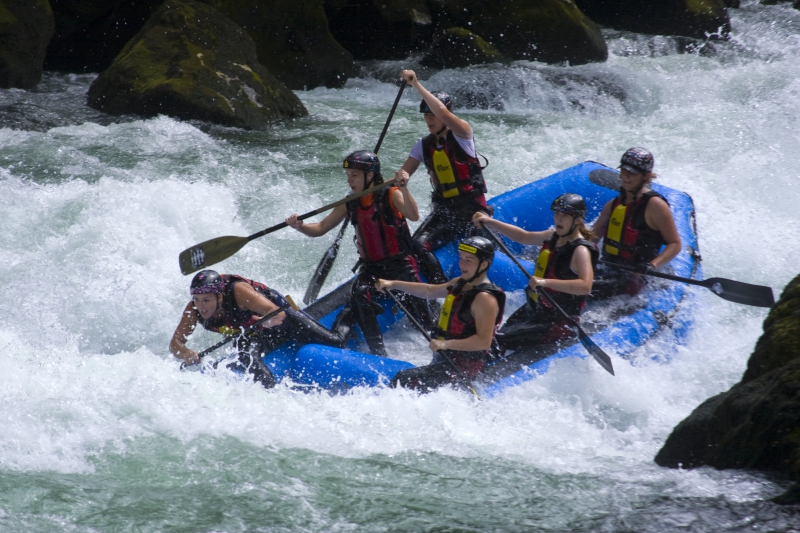 When the snow melts each summer, the runoff floods the mountain rivers and rafting season begins. Colorado mountain rivers are pristine and provide great opportunities to be able to enjoy them for individuals of all different skill levels. If you're a whitewater junkie or are looking to try rafting for the first time, consider it as one of your yearly activities when you invest in your vacation home at The Porches of Steamboat.
Imagine riding the rapids down the Colorado river as cold mountain runoff sprays into your face. You paddle harder as the guide encourages the boat to weave through the waves. At the end of the rapid run, you find yourself smiling, a feeling of pure exhilaration.
When you vacation in Steamboat Springs, you can use the opportunity to try rafting or even become a rafting aficionado. With the Colorado River, the Yampa River, and Clear Creek you won't me wanting for variety each year you visit.
If you're looking for some true excitement and technical rapids, opt for various Clear Creek rafting trips. If you want to brag about your rafting trips back home, definitely tackle one of the many options on the Colorado River. While you may not be on the Colorado River down in the Grand Canyon, the upper Colorado River still has plenty of views to offer. Lastly, if you're looking for a lazy and playful day on the river, choose the Yampa. Steamboat Springs is located in the Yampa River valley so you won't have far to go to enjoy time on the river. If you aren't up for rafting, there are plenty of areas on the Yampa that are perfect for tubing and spending an afternoon in the Colorado sun.
Whether you've never rafted before or you can't get enough of it, Steamboat Springs has something for everyone all year-round when you invest in a vacation home here.